Contact Centre – Solidus eCare
Solidus eCare is a multimedia contact center that gives the customer and agent the opportunity to communicate in the manner of their choice.

IP Multimedia Routing and Queuing

The intelligence in the system that takes care of the routing using skills-based routing, and makes sure that the customer is routed to the most appropriate agent.
Agent applications
The agent application includes the ability to handle all the different incoming media types. Furthermore, it provides agents with the option of having screen pop-ups and real-time information on their desktops.
Self Service
The Interactive Voice Response is a very important tool in the contact center. It is a graphical tool that makes it possible to create all kinds of call flows, ask for and retrieve information, and interface with databases.
Management Services
The management applications include
- the Configuration Manager where you configure the users and media flow
- the Information Manager where it is possible to see real-time information and
- the Report Manager which comprises historical data and reports.

All the management applications are windows-based and easy to use.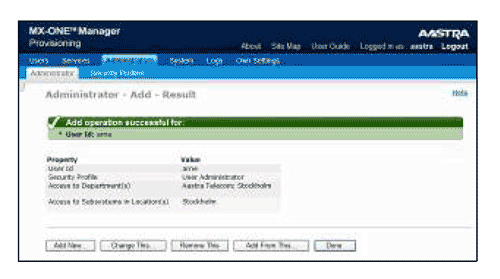 Outbound Agent Application provides agents with the means to handle and take care of outbound telephony, thereby making it possible to create telemarketing campaigns.
Multimedia contact center module:
E-mail/SMS handling
As part of the overall solution, the customers will be able to use e-mail/SMS as a medium for getting in touch with the contact center. E-mail/SMS is handled in the exact same way as phone calls.
Web
The real-time medium known as Chat will make it possible for customers to get in contact with the company from the company's homepage. Chat is handled in the same way as phone calls and goes through the same routing intelligence.