Voice Recording System
Damovo Hong Kong provides you with one of the widest PBX integration platform of Voice Recording System which is reliable, scalable and flexible. The solution has been sold over 100,000 recording channels in 2009.
It is easy to use with integrated quality monitoring tools to facilitate your operations to record voice messages in your financial services trading room, contact centers and public safety conversation.
It also supports mixed input types (analog, digital, trunk, VoIP) in a single server, and can be integrated into your Standard Operating Environment (SOE) with simple configuration.
Features highlighted in the four major areas of Voice Recording System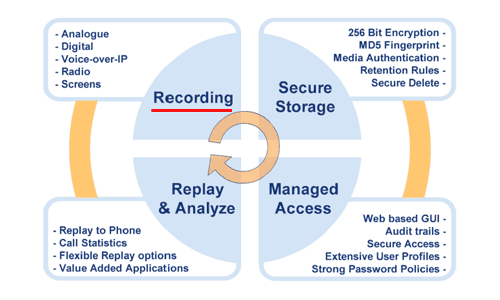 Recording
• Mix input type (analogue, digital, voice-over-IP, radio or screen)
• Support SNMP & SMTP
• 10 audio compression rates to choose from
• Archiving to NAS/SAN, DVD or HP RDX
• Integration into customer SOE
• Scalable up to unlimited numbers of channels

Secure Storage

• 256 bit encryption
• MD5 fingerprint
• Media authentication
• Retention rules
• Secure delete

Access Management

• Web based GUI
• Audit trails
• Secure access
• Extensive user profiles
• Storage password policies
• Unlimited user licenses for administration, search & replay

Replay and analyze

• Replay to phone
• Call statistics
• Flexible replay options
• Value added applications